Auntie's Day(TM) Sponsorship Opportunities Announced
Be among the first corporate  sponsors of the Fourth Annual Auntie's Day, the national holiday to celebrate aunts, godmothers and all women who love children not-their-own.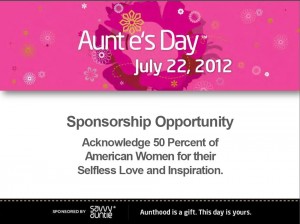 Founded in July 2009 by Melanie Notkin, Founder and CEO of Savvy Auntie,  Auntie's Day is the first holiday designed to celebrate and honor aunts and godmothers.
While nearly 50 percent of American women are not mothers, most women have nieces and nephew by relation and/or by choice, godchildren, etc. whom they love and support.
Auntie's Day is an opportunity to thank the women in children's lives. After all, there is no legal obligation to "aunt." That's why Notkin says: "Aunthood is a gift. This day is yours."
Like Mother's Day, there are no pre-set traditions or rules. However Savvy Auntie recommends the gifts of pink and red flowers, like the Savvy Auntie icon logo.
The most important thing is for nieces, nephews and godchildren (children and grown!) to acknowledge their 'cool aunts, great-aunts, godmothers and all the fabulous women in their lives' who have given them much love and support.
Today, more than ever, the American Family needs all the maternal figures in a child's life to offer love, affection and support.
But being a Savvy Auntie is not an obligation. It's  a gift offered with love and generosity to nieces and nephews by  relation and by choice, and to their parents.
These women who give so generously are often unacknowledged for their gifts. A recent study of  Australian women shows the profound impact society has on childless women. Themes uncovered include:
•  woman = mother
•  notions of 'natural' and 'unnatural'
•  childlessness as a discrediting attribute
•  feeling undervalued
•  significance of being 'childless'
Auntie's Day empowers and inspires these women and the families they contribute to in celebration of all that they do for the children in their lives.