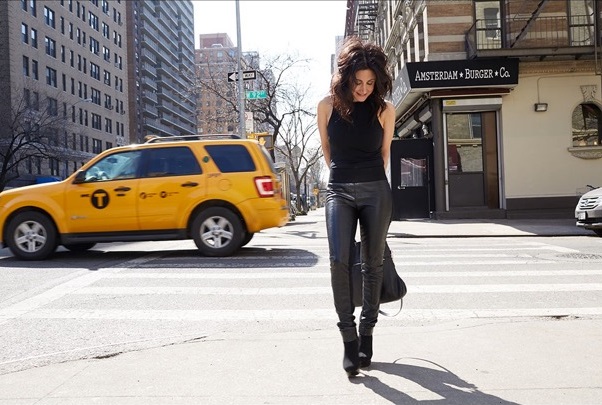 Melanie Notkin is an entrepreneur, author, speaker, marketer and a leading voice of childless, often single, women.
Founder:
Notkin uncovered the growing demographics of childless women and given them a voice. To celebrate modern aunthood, in 2008, she founded SAVVY AUNTIE®, the multiplatform lifestyle brand for cool aunts, great aunts, godmothers and all women who love kids. In 2014, Notkin introduced Otherhood, the modern, growing demographic of women who, despite their deepest yearnings, remain single and childless as their fertile years wane.
Author:
SAVVY AUNTIE: The Ultimate Guide for Cool Aunts, Great-Aunts, Godmothers and All Women Who Love Kids (Morrow, 2011), was a Wall Street Journal best-seller.
Notkin's second book, Otherhood: Modern Women Finding a New Kind of Happiness (Seal Press/Penguin Canada) is also a bestseller and was given a prestigious Booklist *Starred Review.*
Marketer:
When Notkin launched Savvy Auntie in 2008, she also uncovered the PANK® (Professional Aunts No Kids) demographic, the new marketing frontier of highly influential female consumers. Savvy Auntie and the PANK demographic are subsets of the OTHERHOOD™ brand.As a marketer, Notkin was featured in The New York Times Sunday Style section for a national research study entitled The Power of the PANK which she co-released with Weber Shandwick and KRC Research in December 2012. In November 2013, the PANK was reported by Euromonitor International as the top travel trend. In April 2014, Shades of Otherhood, a national demographic study inspired by Notkin's Otherhood, and with her deep involvement as consultant, was released by DeVries Global PR. It gained notoriety on UpWorthy.com.
Notkin has attracted leading brands including Disney, Ford, Lands' End, Pantene, Olay, Avon, Hallmark, Hasbro, Tropicana, JCPenney, Yoplait, Sprout and Scholastic as sponsors. Her social media and marketing campaigns on behalf of her clients have been featured in The New York Times, Advertising Age, Mashable.com and The Wall Street Journal where she's been lauded as a 'trusted source' and spokesperson for America's top brands.
Speaker and Thought Leader:
Notkin speaks at conferences and events for women and for marketers. Recently, Notkin spoke at the STYLUS UK Modern Family conference on the growing demographic of childless women and PANKs, to a Fortune 50 company and a Fortune Global 2000 company on marketing to the Otherhood, at a fertility conference for women and men, as well as at the 92Y and to a standing room-only crowd at Barnes & Noble.
Notkin has been featured on CNN, TODAY Show, Rachael Ray, ABC News Now, Good Day NY, as well as on NPR, the BBC and Australia's ABC RadioNational. She has been featured in The New York Times, The Wall Street Journal, The Washington Post, Mashable.com, New York Magazine and other national, local print and online media. Notkin pens popular blogs on Huffington Post Women and PsychToday.com on the subjects of childless and/or single women.
Expanding the Savvy Auntie Brand:
Notkin's SavvyAuntie.com was a 2009 Webby Award nominee and is ranked among Forbes' Top 100 Websites for Women. The Savvy Auntie Facebook Page finds nearly 100,000 in the "Auntourage" and @SavvyAuntie has 23,000 Followers.
As a toy expert, Notkin launched the SAVVY AUNTIE COOLEST TOY AWARDS in the fall of 2009 to help secondary caregivers become aware of the expert-approved toys kids crave every holiday season. She serves on the Toy Industry Association Toy of the Year Nomination Committee and was a speaker at PlayCon.
In 2009, Notkin launched AUNTIE'S DAY®, the first national holiday to honor and celebrate aunts and aunthood. The seventh annual Auntie's Day will take place on Sunday, July 26, 2015.
Background:
Before developing Savvy Auntie, Notkin was an award-winning, senior level interactive marketing and communications executive for global Fortune 500 companies, including The New York Times and American Express, as well as L'Oréal. She is a graduate of McGill University in Montreal, Canada where she was born.
Notkin is a Savvy Auntie and Auntie by Relation (ABR) to a number of wonderful children who are the loves of her life. She is also an Auntie By Choice (ABC) to all of her friends' kids, who come in a very close second. Notkin resides and works in New York City. You can find Melanie at Twitter.com/SavvyAuntie, Facebook.com/SavvyAuntie, Youtube.com/SavvyAuntie and of course SavvyAuntie.com.