Thank You, Corolle
September 19, 2012
Dear Savvy Aunties,
When I first had the idea for Savvy Auntie, I knew toy companies would love the opportunity to connect with Savvy Aunties – women who love to give their nieces and nephews, and all the children in their lives, gifts that the kids want and  - we hope - will treasure.  Some toys, we know, are delighted upon when the gift boxes are opened, but months, weeks, sometimes even days later, the children move on to other toys they also love.
But there are also many gifts that we know they will cherish for a long time, whether it's an extraordinary experience, like a first baseball game or a trip to the ballet, or a simple ice cream cone with extra sprinkles on top. And there are some toys that we know will also last forever. It could be a board game they play for years with family members, their first remote control race car… or perhaps a special doll.
When a niece receives her first doll from the day she is born through her formative years, the doll often becomes part of the family. Sometimes her love for a doll is inexplicable. But every so often, we know exactly why she loves that doll. It's beautifully crafted and designed, perfect for snuggling or making her feel like a little mommy herself.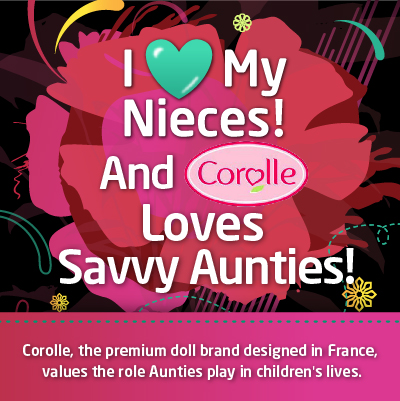 When I rediscovered Corolle Dolls at a New York Toy Fair a few years back, I fell in love with all the beautiful dolls the French company designs. Corolle is always one of my favorite stops each year at the toy industry event. So when the good people at Corolle invited me to become a Brand Ambassador, I was delighted. Corolle dolls are magnificent and ones I know your newborn and little nieces will fall in love with. A Corolle doll is a gift that lasts.
You can learn more about some of my favorite Corolle dolls here: http://bit.ly/PM8FDD
The brands that sponsor Savvy Auntie help me develop the resources I offer you. Please support our sponsors as your support keeps the Savvy Auntie movement going strong!
Thank YOU and thank you, Corolle!
XOXO,
Melanie Notkin
Founder and Author, Savvy Auntie