Savvy Auntie, PANK and Melanie Notkin Named in Euromonitor International Top 10 Global Consumer Trends for 2016 Report
Trend: Spending Singles - "Child-free Spenders"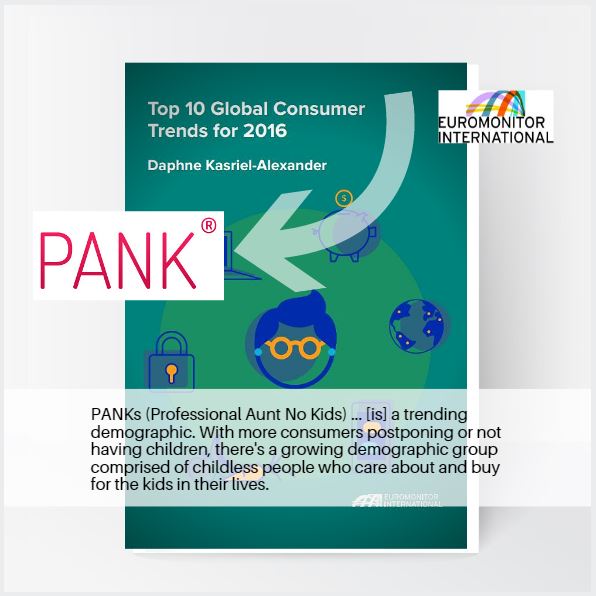 "PANKs (Professional Aunt No Kids) ... [is] a trending demographic. With more consumers postponing or not having children, there's a growing demographic group comprised of childless people who care about and buy for the kids in their lives. Brands, like Toys "R" Us, Fisher- Price and Mattel have been quick to appreciate the commercial potential here. The International Business Times has called "PANK travel", aunts holidaying with nieces and nephews, a key travel trend.
SavvyAuntie.com is a website run by Melanie Notkin. She says that 38% of American women aged between 20 years and 44 years old are childless, and that many of them are eager to help their nieces and nephews get the best out of life by spending money on educational, cultural and playful experiences. These are women who love kids and want to spoil them, but feel like trespassers when visiting the many parenting websites. Naturally, shopping is part of the picture, and these consumers are vocal about brands, often acting as style advisors to the children they adore. Savvy aunties typically have higher discretionary incomes; Notkin calls them secondary caregivers that are primary gift givers. This rationale is behind campaigns like the annual "Savvy Auntie Coolest Toy Awards", held strategically near the holiday season. Yen Chan sells premium baby clothes, ideal "PANK-bait", she believes. A PANK herself, she says, "Well, I don't have children, I have a disposable income, I love those kids [my nieces and nephews], so why not?"
The Report "TOP 10 GLOBAL CONSUMER TRENDS FOR 2016" by Daphne Kasriel-Alexander, Euromonitor International, is under pay-wall, here

.