PANKs (Professional Aunt, No Kids) play big role as 'secondary caregivers' in busy families
Aunts, especially those without children, have become key figures in the lives of their nieces and nephews.
Christina Myers, right, celebrates her birthday with her 14-year-old niece Julia. Myers shares a special bond with her niece and three nephews.
"We're both sopranos, we both love music and singing. For the past two years we sang a duet at church at Christmas; it was really cool," said Julia Myers, an Inver Grove Heights freshman who picked out the necklace.
"She calls me her mini-me and that reminds me of how awesome it is to be myself," said Julia.
While the bonds of extended kinship have always been strong in some families, the role of the modern aunt has become essential.
"I have so much love for them, my heart is just bursting all the time," said Christina, 40, of her relationship with Julia and her three nephews. "I'm not going to have kids, so these relationships are so important. It's a gift to be close to them."
"These women provide quite a valuable role, especially now, when parents are so stretched," said Melanie Notkin, who coined the term. "They add another layer of nurturing."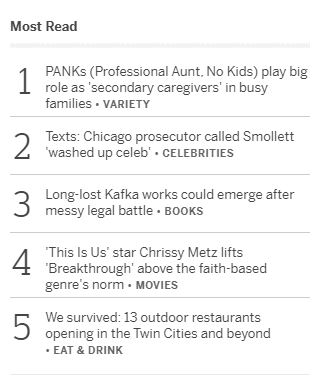 A PANK herself, Notkin said that 23 million childless American women (about 20 percent of all women 18 and older) report having a special bond with at least one child in their life.
"For women who don't have children — whether by choice or chance or challenge — being an aunt is a way to use that maternal muscle," she said.
In 2001, when Notkin's nieces and nephews were very young, she founded the Savvy Auntie website to help other aunts explore and expand their relationships with their younger kin. There's also a Facebook page, with almost 100,000 followers, where aunts, great-aunts, godmothers and honorary aunts can share their ideas about how to enhance their positive presence in a child's life.