Otherhood
(Seal Press / Penguin Canada) March 4, 2014
NOW in paperback!
*STARRED REVIEW* - BOOKLIST
An essential read for anyone interested in what it's like to be a woman today."
—Gretchen Rubin, bestselling author of Happier at Home and The Happiness Project
The rising percentage of childless women is one of the most overlooked and underappreciated social issues of our time. Never before have more women lived longer before having their first child or remained childless toward the end of their fertility. Nearly half of North American women of childbearing age are childless—a dramatic rise from 35 percent in 1976—yet childless women are still perceived as the exception, not the norm.
In Otherhood, Melanie Notkin explores this modern phenomenon to understand the reasons for this shift, the social and emotional impact of childlessness, and how the "new normal" will impact social structures in the decades to come. By turns anecdotal storytelling, inspiration, reportage, and manifesto, Otherhood gets at the heart of our social consciousness around childlessness to trigger thought-provoking conversation. Notkin's intimate take on the trend affecting so many modern women is a groundbreaking exploration of this essential social issue.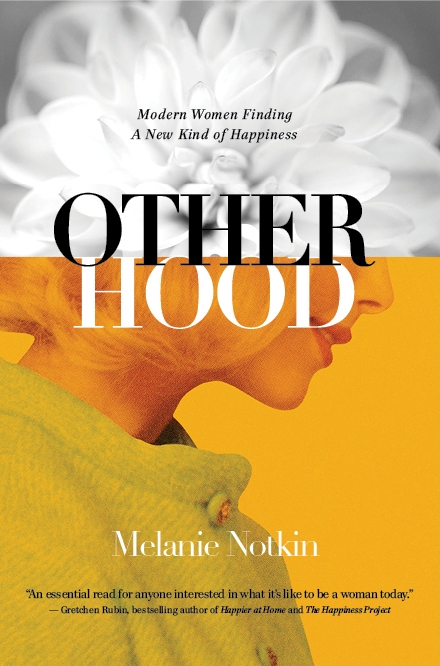 BOOKLIST
*Starred Review* Women without children have long confronted disapproval subtle and outright. Whether by choice or circumstance, the inability to accomplish this seemingly most natural of conditions is often neither the default nor desired setting for many women. With statistics now showing that nearly half of all women of child-bearing age are childless, the dearth of informed insight and compassionate support for women in this emotional limbo leaves a huge percentage of the population feeling paradoxically both invisible and conspicuous. Author of the best-seller, Savvy Auntie (2011), and founder of the Savvy Auntie brand that celebrates the numerous contributions of nonmothers to the children in their lives, Notkin explores the complex ramifications of being a childless modern woman. If, as the old rhyme predicts, first comes love, then comes marriage, Notkin sagely examines the rocky road a woman wanders on the way to filling (or not) the next-in-sequence baby carriage. Although childlessness is the book's clear focus, Notkin's spot-on appraisal of the pitfalls of the current dating scene provides equally valuable insights for any woman struggling to accept the sobering realities of contemporary romance or reproduction. --Carol Hagga
KIRKUS REVIEW

A frank, hopeful look inside the world of single, childless women facing the end of their fertility.
With an increasing number of American women having a first child at a later age, the Census Bureau has labeled the trend "the delayer boom." However, many are confronting the likelihood they will never have biological children. Huffington Post contributor Notkin (Savvy Auntie: The Ultimate Guide for Cool Aunts, Great-Aunts, Godmothers, and All Women Who Love Kids, 2011) suggests recognizing these women as "the otherhood." Single and in her early 40s, the author speaks for a generation of women who expected to have the social, economic and political equality their mothers did not. They also expected "the romantic wholeness of marriage and family," but the right man never came along or they were in long-term relationships that didn't work out. She describes complaints older women have with men who can't plan proper dates or who want a younger woman to settle down with. Far from the dowdy old maids and spinsters of yore, today's mature single women don't need to settle for a man they don't love to support them. They have active social lives, successful jobs, and nieces and nephews to love. However, remarks by even well-meaning friends and family members can make them feel "less than" or at fault for not being mothers. In heartbreaking stories, Notkin reveals why "circumstantial infertility" can be as devastating as biological infertility. While many women are empowered by the ability to freeze their eggs or have children on their own, those choices are expensive and frightening for others. Rather than whining about her experiences, Notkin offers funny, instructive vignettes to bring attention to a largely misunderstood and overlooked demographic.
A fun, sexy examination of why more women are remaining childless longer and what that means for their lives and society.
PUBLISHERS WEEKLY
Notkin (Savvy Auntie) coined the term "otherhood" to describe "our misunderstood group of women doing our best to live full and meaningful lives despite the frustrations of some of our most cherished longings": love, marriage, and children. She notes that "the rise of childless women may be one of the most overlooked and underappreciated social issues of our time." As a high-powered, attractive New Yorker who, along with many female friends, achieved success through talent, hard work, and perseverance, she sets out to answer how she and girlfriends in their mid-30s and older are, despite efforts and expectations, still single and why they are "scrutinized so unsympathetically, harassed for sticking by our convictions and invalidated as just plain less than everyone else." Part sociological study, part memoir, the book explores issues including men's reluctance to plan a date, commit, or marry women their own age; egg-freezing trends; the joys and agonies of relationships with others' children; modern matchmakers; and Notkin's own resolution as she enters "the other side of [her] fertility." Heartfelt and frank, the book may be a comfort to other unintentionally single, childless women and a disturbing revelation to their friends, families, and colleagues, although the affluent Manhattan-centricity of the author's cohort may alienate less-privileged readers. (Mar.)
More Reviews
"Life doesn't always unfold the way we expect. In this thought-provoking, honest, and often hilarious exploration of "otherhood," Melanie Notkin describes the pleasures and pain of coming to grips with the life she actually has—a childfull life, without children of her own. An essential read for anyone interested in what it's like to be a woman today."
—Gretchen Rubin, bestselling author of Happier at Home and The Happiness Project
"In Otherhood, Melanie Notkin gives a fresh voice to a largely unseen, misunderstood part of the population: the unmarried, childless female. After you read this book, you'll discover she isn't who you thought she was."
—Stacy London, Style Expert
"In a poignant reported memoir, Otherhood gives voice to a growing, but often hidden segment of society: women who are still waiting for love, marriage and children. With honest humor, Notkin gives the beautiful, bright, talented, single women something no one else does: hope."
—Amy Klein, New York Times Motherlode "Fertility Diary" columnist
"Families aren't what they used to be, but here Melanie Notkin shows that they've recombined, not fallen apart. Otherhood is powerful, not only because it charts an important role for modern women in an age of singles and solos, but also because it's sharp, witty, and insightful. A terrific read."
—Eric Klinenberg, author of Going Solo: The Extraordinary Rise and Surprising Appeal of Living Alone
"Melanie Notkin has tapped into the deep need we all have for a new language of love. Otherhood is the perfect book for these times—honest, romping, vulnerable, uplifting. Read it now, because everyone will be talking about it soon."
—Bruce Feiler, New York Times columnist and bestselling author of The Secrets of Happy Families
"Heartbreaking, insightful and ultimately affirming, Otherhood is Notkin's anguished but undefeated post-feminist battle cry on behalf of childless women of a certain age who refuse to settle for a lesser love."
—Jonathan Tropper, bestselling author of This Is Where I Leave You
"In Otherhood, Melanie Notkin brilliantly reveals feminism's dirty little secret: the most fabulous women today are not finding love, marriage, or the baby carriage. They are creating—in a way The Feminine Mystique did not predict—a new, equally extraordinary kind of happiness."
—Karen Lehrman Bloch, author of The Lipstick Proviso: Women, Sex & Power in the Real World
"In Otherhood, Melanie Notkin, takes the reader on an intimate and insightful journey of what it's like to be single, never married and childless when apparently no one thinks you should be. She courageously invites us into her intimate world, experiences, and feelings, in a way most close friends wouldn't even do. And in doing so, she beautifully highlights the importance of being authentic and true to yourself, even if your dreams and wishes don't come on cue."
—Dr. Robi Ludwig, psychotherapist and TV commentator
"Melanie Notkin's Otherhood is empowering and enlightening for a generation of modern women who don't want to settle in order to settle down. This book will resonate not only with single women but also with those who love them."
—Andrea Syrtash, author of He's Just Not Your Type (And That's a Good Thing) and Cheat On Your Husband (With Your Husband)
"Otherhood is a timely book offering up valuable guidance on how to feel appreciated and supported while being self-reliant. Melanie Notkin's genuine love for her reader shines through each page. Notkin is a powerful leader for all women as they enter into 'otherhood.'"
—Gabrielle Bernstein, New York Times bestselling author of May Cause Miracles
"Any woman who has ever felt bad about not being 'on track' will find hope and inspiration in Notkin's readable, compelling book. The experience is like chatting with an old college friend who hands you a mug of tea and kindly reminds you to stop bitching already and get busy creating and celebrating an authentic awesome life."
—Sarah Elizabeth Richards, author of Motherhood, Rescheduled: The New Frontier of Egg Freezing and the Women Who Tried It
Purchase Book
Paperback available here:
U.S.
Canada